What is a design engineer, and what is blast resistant design?
Blast Resistant Design Engineer; Thomas Mander
When it comes to the complex construction necessary to complete industrial projects, having someone on your team with a master plan is essential to getting things done. In engineering, this is often the design engineer, someone with extensive expertise in engineering principles that can work with other teams to execute projects as planned. But when a project requires specialized expertise, a more focused approach may be necessary. For example, when designing buildings and facilities meant to resist blasts and protect from other hazards, a blast resistant design engineer is often required to do the work properly. In this post, we'll introduce you to our very own blast resistant design engineer, Thomas Mander, and tell you about his role at FORTRESS.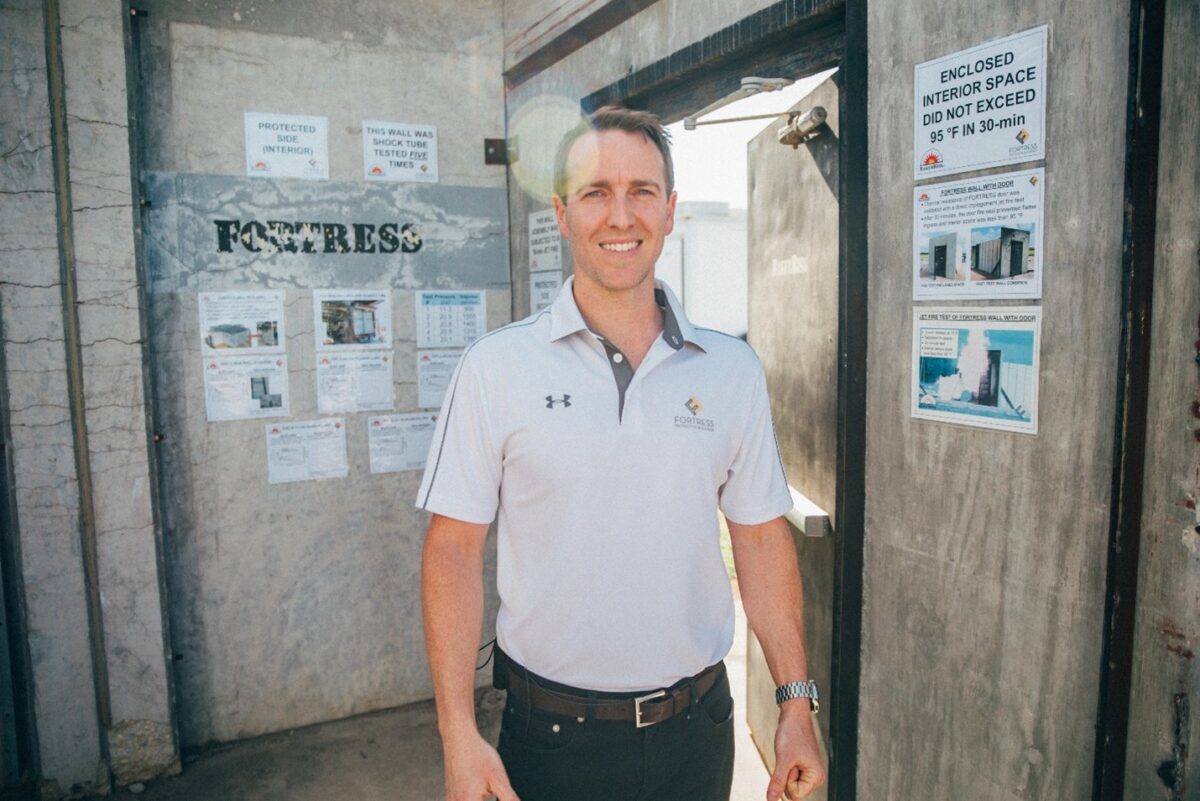 What is a design engineer?
As mentioned above, design engineers are focused on the engineering design process. Responsible for understanding the requirements of a facility and creating detailed plans to ensure construction goes as efficiently as possible, design engineers use complex scientific and mathematical techniques to ensure a facility's overall design matches the role it's meant to play. This process is highly analytical and varied, ranging in scope from something as small as a vacuum to something as large as a wind turbine. It's challenging work, with many variables, requiring rigorous testing methods to realize and access potential failure points throughout the process.
What is a blast resistant design engineer?
Blast resistant design engineers, by extension, apply these skills directly to protective structure design. They focus on providing a building that protects occupants from blasts, specifically, and sometimes other hazards as well, such as fire, toxic, and weather hazards. And while any design engineer can aid in this process, engineers with extensive experience understanding how building components respond to predicted hazards are essential to minimizing risk and ensuring the safety of the people inside. Knowledge of blast resistant building design criteria is invaluable in such circumstances.
Who is Thomas Mander, and what is his role at FORTRESS?
Thomas Mander is an alumnus of Texas A&M with an M.S. in Civil Engineering and is currently working towards his PhD in Civil Engineering at the University of Texas at San Antonio as a National Science Foundation Graduate Research Fellow. As a principal engineer in the Protective Structures section at BakerRisk, his role requires him to do a bit of everything, from facility siting studies to finite element analysis and full-scale testing of building components, all while working closely with BakerRisk clients. He's accomplished a lot but continues to see ways to grow and improve after 13 years with BakerRisk. The variety in his work keeps his day-to-day engaging and the project scope he oversees sufficiently challenging.
FORTRESS began as one such challenge. Mander and his team saw a need to offer the multi-hazard protected building services people deserved that were often unavailable. Many buildings could meet blast resistant design standards, but few included protections from other hazards, so his team set out to design a pre-cast concrete modular building solution offering flexible protection services for whoever may need it. Their designs were laid out not just to meet blast resistance standards but to focus on the survivability of the building occupant, including protection from toxic, fire, and fragment hazards. And so, Mander's role as a blast resistant design engineer at BakerRisk established itself as a unique one. More broadly, Mander is a protective structures design engineer. He focuses on providing a building that protects building occupants regardless of the hazard type, which he sees as one of the critical successes of FORTRESS Protective Buildings. They allow owners to tune in to their specific needs, providing them the building functionality they need without sacrificing safety standards.
Thomas Mander cites his work with FORTRESS as one of his favorite overall experiences at BakerRisk. From the initial conceptual designs to seeing the first building at a client site, FORTRESS has been a core pillar in Manders' career and an accomplishment of which he is extremely proud.
The role of design engineers in blast resistant design and multi-hazard protection
Design engineers are an integral part of building and facility design. Accounting for needs and utilizing the engineering skills they've honed over many years helps ensure the construction process is as smooth and efficient as possible. But when a building needs to resist blasts and protect building occupants from other hazards, a design engineer with specialized expertise in multi-hazard protective services is a must. To ensure your building and its occupants are sufficiently protected, you need an expert with the experience necessary to design a space for you. Thomas Mander and his team developed FORTRESS with you in mind, creating a modular solution with unparalleled customizability that offers the maximum protection possible.
If modular, flexible protection sounds like the solution you've been searching for, then FORTRESS may be right for you. Contact us today to order a FORTRESS Protective Building or to learn more about what FORTRESS can do to meet your unique needs!