Designing and testing beyond blast resistant protection
The makings of an award-winning FORTRESS protective building
Join Manager of Structural Analysis, Thomas Mander, and FORTRESS President, Karen Vilas, as they walk you through the FORTRESS test-specimen yard and BakerRisk's award-winning Nameplate #1 building to discuss the patented design features and protective components that make FORTRESS Protective Buildings the premiere option for protection, versatility, and reliability.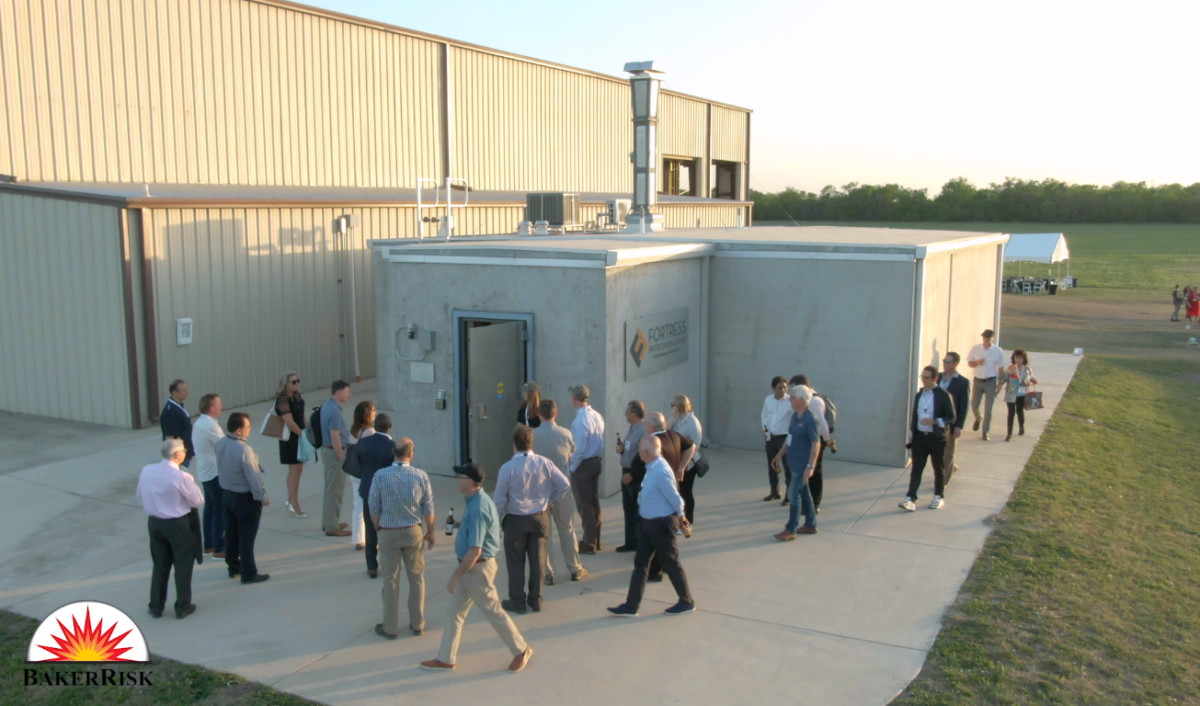 Thomas and Karen will discuss how FORTRESS was tested extensively against the following hazards to validate and improve FORTRESS design features and components in order to provide clients with maximum protection and the best quality possible.
Blast pressures (representative of explosions)
High-pressure projectiles (representative of fragment hazards from equipment failures and extreme wind/weather debris)
Jet-fire hazards
Toxic gas detection, isolation, and ingress
Join us to dive into the results from these hazards tests one by one - let's start with a blast,... or seven!
7 Shock-tube blast tests versus FORTRESS module walls and joint
What would happen if your blast resistant building faced a major explosion? Are you confident that it would withstand the blast with negligible vulnerability to people and equipment inside?
How do FORTRESS's patented design components, including monolithic precast concrete modules, stand up to full-scale blast tests?
Watch Thomas Mander as he walks us through the FORTRESS test specimen yard to explain how BakerRisk extensively tested FORTRESS's expertly designed module components such as precast walls and thermal resistant joints to analyze the level of protection of FORTRESS's patented design provides against multiple realistic hazards, including blast hazards, and to test FORTRESS's functionality after these major events.
Projection of 13-pound steel plugs versus FORTRESS precast concrete wall
How would your protective building stand against high-pressure projectiles? Are you confident your walls would remain intact and that your building occupants would be protected?
Watch as Thomas Mander discusses how FORTRESS's precast concrete wall performed against a 13-pound steel plug traveling 200 feet per second.
30 minute Jet fire test versus FORTRESS door and components
What would happen if your protective building faced a major fire? Would your building occupants be protected against thermal exposure?
Watch Principal Structural Engineer Thomas Mander explain how FORTRESS's protective door was tested against a jet-fire release for 30 minutes in order to analyze protection against thermal hazards under extreme events. Discover how this door performed during and after this major test, and what was learned from the results.
Thermal protection features of FORTRESS blast resistant door
Can a door provide protection against blast and thermal hazards? When occupant safety and emergency evacuation are on the line, you need a door that is proven to withstand the hazards and proven to function reliably after an event. See why FORTRESS's stainless-steel door provides maximum protection and peace of mind.
Tour the Award-winning FORTRESS Nameplate #1 Building
Join Karen Vilas as she takes us on a personal tour of the award-winning FORTRESS Nameplate #1 building, showcasing features that make our protective buildings the premier option for safety and operations for facilities needing to work near hazardous areas.
Features include:
• Vestibules with thermal-resistant doors and shelter-in-place gas detection systems,
• Open work areas for flexible use, including acting as a control room,
• Practical and modern amenities such as kitchen, laundry room, and restroom options,
• Controlled HVAC system for optimal toxic protection,
• And more!
Protection beyond blast (explosion) hazards
FORTRESS Protective Buildings are not just your average blast resistant building option – but rather the best multi-hazard building option on the market. Watch as Thomas Mander explains why FORTRESS was developed with industry needs in mind, and why we can confidently say it's the best protective building on the market.
Learn more and explore it's flexible layout options! Contact us today to order a FORTRESS Protective Building or to learn more about what FORTRESS can do to meet your unique needs!